WW2 German Grenade "Potato Masher" SOLD!!
World War II (WW2) German Stick Grenade
"POTATO MASHER"
M-24 Inert Gernade

This is an authentic World War II (WW2) M-24, inert GERMAN
Stick Grenade, also called a POTATO MASHER. 14" long.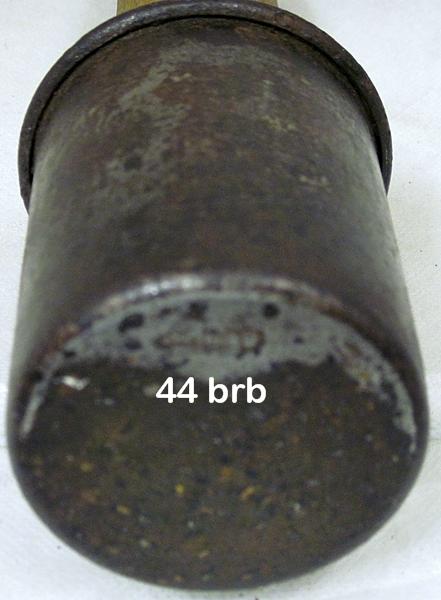 It is marked on the bottom of the 3" metal cannister "44 brb" which I
am unsure as to meaning (1944 date?).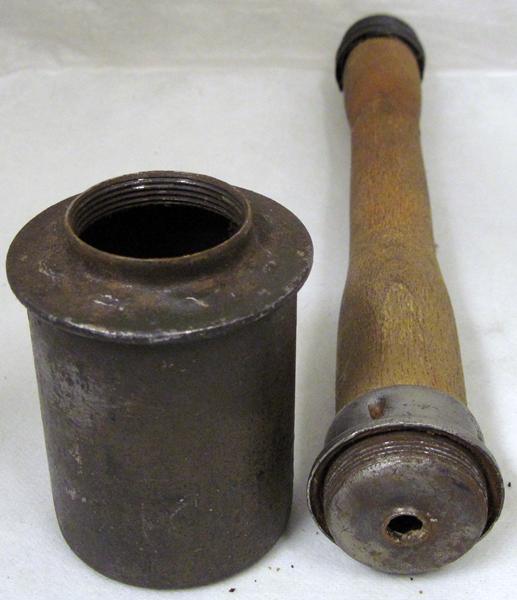 It is also marked on the bottom of the wood handle "ffd 44" (also unknown).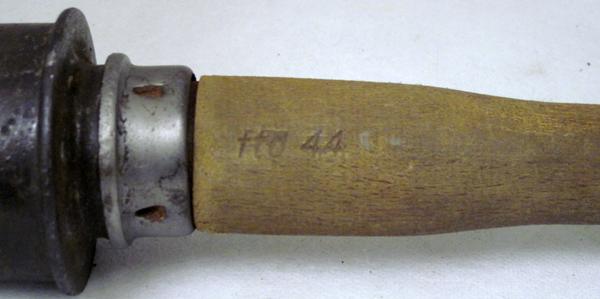 There is some damage to the cap that screws on (jagged edges & some loss of
metal--see pic). No cord, ball or igniter. Otherwise good condition for this
very rare item! NOTE: REPRO grenades cost in the $70-80 range;
the only other ORIGINAL grenade I found was listed for $360!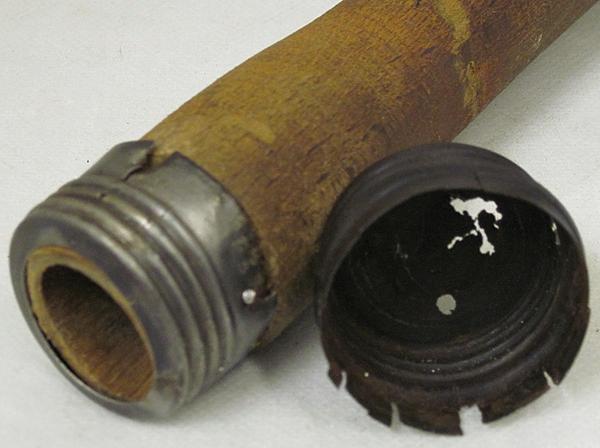 "The high explosive, concussion, M24 stick grenade was a modification of the WWI German M1915
stick grenade and was to become the most common grenade used by Germany during WWII. Modifi-
cations of the M24 resulted in the longer M39 grenade in 1939 and the M43 grenade with a different
fuze insertion configuration in 1943. The M24, M39 and M43 grenades were all armed with TNT with
a four to five second time delay fuse and had an effective radius of approximately twelve to fourteen
yards. Of Note: Observations on the Russian front of the effectiveness of the Russian RGD33 grenade
with fragmentation sleeve led the Germans to copy the idea and develop their own grenade fragmentation
sleeve. The first German fragmentation sleeve was a smooth version introduced by the Waffen-SS,
Waffen-und Geräteamtes, (Weapons and Equipment Office), under command of SS-Oberführer
Heinrich Gärtner in mid-1942. Shortly after the introduction of the Waffen-SS fragmentation sleeve
the HwaA, Heereswaffenamt, (Army Ordnance Office), a subsection of the OKH, Oberkommando
des Heeres, (High Command of the Army), followed suit by developing a serrated version of the fragmen-
tation grenade although both patterns were used by both organizations. The fragmentation sleeves were
originally designed to friction fit on the head of the stick grenade altering it from a purely concussion
weapon to a more damaging fragmentation weapon. The fragmentation sleeves could be utilized with any
of the three stick grenade models, StiGr. M24, M39 and M43. Also Of Note: Regulations of December
9TH 1943 ordered that one third of all stick grenades be furnished with the fragmentation sleeves."