Watch Demagnetizer SOLD!!
Vintage Watch & Timepiece DEMATNETIZER
"SOUTH BEND"
Original KNOBLOCK (Sales Co.) Patent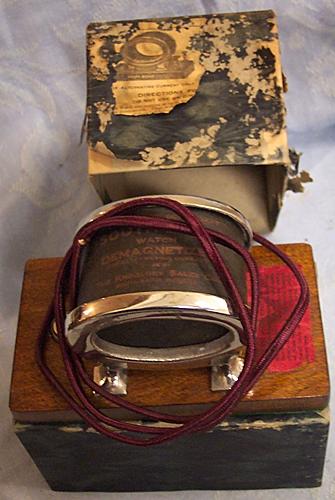 This is a vintage Watch (and timepiece) DEMAGNETIZER. It is in
its original box (original satin paper & outer label only partially
remains). The (red) Directions paper mounted on the walnut base
is all there--but outer edges are uneven & worn away.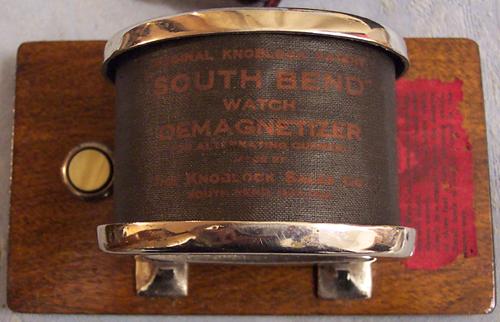 It is called the ORIGINAL KNOBLOCK PATENT "SOUTH BEND"
watch demagnetizer for alternating current, and was made by
The Knoblock Sales Co. of South Bend, Indiana.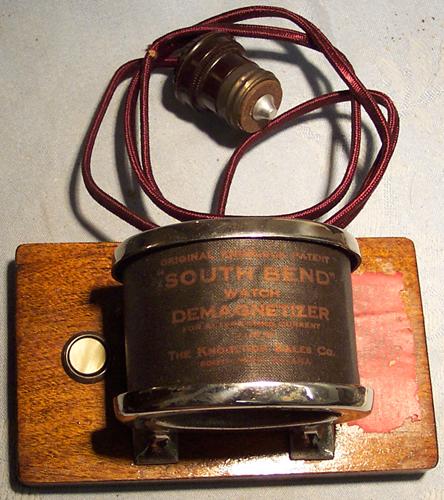 The silk-wrapped cord has 2 slightly rough areas. There is a
button mounted on the wood base that looks like it might be
mother-of-pearl (but may be plastic--can't tell). Chrome,
oilcloth, wood, etc. are in very good condition.